Valentines! That's right, I'm trying to stick to my goals and get ahead of things and that means getting a jump on Valentines Day. I actually have all the Valentines for the kids' classmates ready to go out - but that's another blog post. Today I wanted to show off the crafty cuteness from yesterday's little get together with a couple of my friends. Actually it was our second attempt for the month. Life being as it is, our first craft day last week was kind of a no-go and our reschedule only worked for half of the ladies that were originally in on the plans. No worries, I'm learning to take whatever life gives me (and use the no shows as excuses to have fun one on one with them later) and roll with it. And we all know that crafty with buddies, be it one or ten, is always a lot of fun. Yesterday was no exception. I really enjoyed myself and the crafts turned out super cute.
I did 2x4 pumpkins for October, and trees for Christmas, so when a friend asked if we could do Valentines crafts this month my first thought was "what can we make with a 2x4?" :) This is what I came up with.
I always regret not taking out the camera before everyone goes home because each one has it's own special look. This time in particular I really loved how the other sets turned out too. Remind me to take photos next time, someone, please!
I like my set so much I'm pretty sure I need to list some on
etsy
and share the love, doncha think?
And for our second craft, a Valentines themed shadow box. I'm really in love with this concept. Don't be surprised if you see a green version in a couple of months...
Linking to: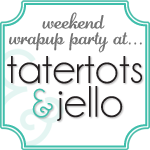 Made by You Monday
at Skip to My Lou