I think argyle is adorable as an accent piece, don't you? I ran across an argyle knitted hat pattern a couple weeks ago and really wanted to make one. Except I don't knit. And have you tried finding argyle crochet patterns online? They don't
exist
! I was shocked. And annoyed. And after much searching I finally decided fine! I'll make my own pattern!
So here is my first attempt. What do you think? Not bad for an amateur, eh? I'm pretty pleased with it (despite the fact that there are a couple things I will change next time I attempt it) and Kaitlyn's in love. I may or my not keep this prototype but it's cute enough to list in
my

etsy

shop
, right?
After a few more practices I may or may not write up a pattern (for anyone that's interested. Is there anyone interested?). But for now I will tell you that I started off with a pattern I already knew and liked, then worked in the brown for the diamonds as I got to that point (I won't tell you how many times I unpicked the first couple rounds with the brown because I kept getting the spacing wrong lol). After the hat was completely finished I went back in with the lighter blue yarn and
top stitched
in the second set of diamonds. And viola!
Linking to:
Stories A2Z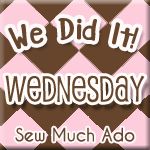 Not Just a Housewife